Submission to Infrastructure Australia on active transport
29 November 2019 | Policy & planning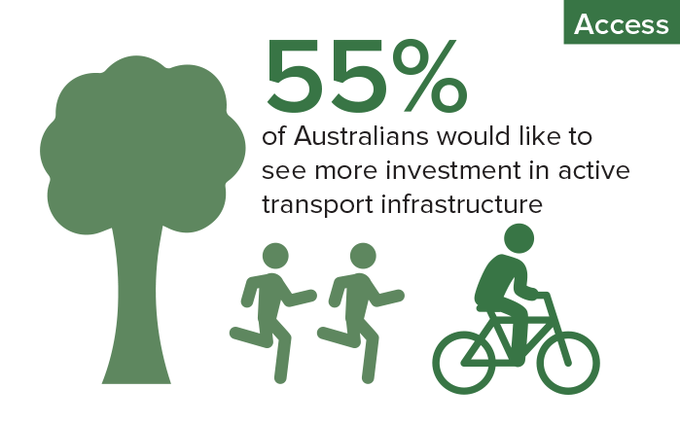 Above: Infrastructure Australia included this graphic in their 2019 national Infrastructure Audit report.
A significant movement is underway with advocacy for better funded bicycle infrastructure coming not only from Foundations and organisations like We Ride Australia, but also from some of the more innovative and forward thinking motoring organisations like RACV. Our submission to Infrastructure Australia for its 2021 Infrastructure Priority list was supported by our affiliates Bicycle NSW, Bike SA, Mountainbike Australia, Pedal Power ACT and WestCycle. It was prepared in response to Infrastructure Australia's national 2019 Infrastructure Audit.
The submission responded to many of the opportunities and challenges presented in the 2019 Infrastructure Audit and we made five key recommendations. That:
transport benefit and cost analysis frameworks be utilised that reflect the true cost of transport projects, including costs of motor vehicles and wider benefits of active transport investment
a robust application of positive provision for active transport in all federally funded transport projects be adopted
quality design guidance for construction of bike infrastructure and implementation of Vision Zero approaches to built infrastructure be established
better bicycle and walking crash data be collected, and
transport disadvantage be addressed by weighted funding criteria for infrastructure projects.
The submission, which you can download here [725KB PDF] also responds and comments on twenty-one of the key opportunities and challenges contained in the Audit.
Motoring organisations are evolving
The Royal Automobile Club of Victoria (RACV) has submitted a strong call for a funded Melbourne bikeway network as part of their submission to the national Infrastructure Australia Priority List.
We commend the RACV, who have invested to send a senior executive to research active transport in three comparable North American transport markets with We Ride Australia's recent Transport Study Tour to Vancouver, Portland and San Francisco.
The RACV has researched and developed an objective case for investment in 17 inner city cycle routes as part of their five-part 'congestion-busting' key transport priorities for Melbourne*.
The organisation has called for the funding saying it "should be an investment priority to provide safe cycling superhighways" in Melbourne.
We understand that the practice of 'quick wins' in the US and Canada, where smaller interventions to make cycling safer and more convenient are trialled at low cost before making them permanent, has particularly impressed RACV (as they did us!).
See further RACV information here.
* we note and support Bicycle Network's budget submission to the new Andrews Government in late 2018 also calling for investment in key infrastructure and programs.