5,980 people supporting the environment through bicycles, and growing!
$6.3billion
Direct economic output of the Australian bicycle sector
34,295
Number of jobs directly employed in the bicycle sector
$1.2billion
Total spend on cycle tourism in Australia in 2020
Latest Videos
The videos below are from recent Summits, our programs and from supporters of We Ride Australia
What we're up to
RideScore Active Schools program launch
More children riding to school for long term change

View details
North America Study Tour
Empowering our leaders to create a better environment

View details
Cycling Luminaries Awards
Celebrate the people that support Australians riding bikes

View details
We Ride Australia works to...
Secure the conservation and protection of the natural environment through the promotion of bicycling as an environmentally beneficial means of transport..
Promote bicycle transport as a means of reducing greenhouse gas emissions, improving air and water quality, reducing non-renewable energy consumption, and improving land use.
Promote the use of the bicycle as a key element of ecologically sustainable development practices.
Promote the use of the bicycle as a healthy, environmentally sustainable means of enhancing accessibility and personal mobility in the community – particularly in relation to school children travelling to and from school.
Learn more
Latest news
18 December 2022

It's time for a final wrap of 2022 and a quick reflection on the work WeRide has done during the year, the strength of our national collaborations and what we're planning in 2023! You can see our final message for 2022 in the latest video news update here or read the summary below. The December News Video RIDESCORE ACTIVE SCHOOLS After two years of delays we are now finishing our RideScore Trial program on a high. RideScore gives parents the confidence to let their children ride and scoot to school as they get a direct message when their child…

View
26 November 2022

Updated – 28/11/22 Winners of the 2022 national Cycling Luminaries Awards were announced at a Gala dinner held in Sydney at the Royal Randwick Racecourse Ballroom last night. They are: Steadyrack Leadership Award – Volunteer Marie Lawton, Northern Rivers Rail Trail Steadyrack Leadership Award – Professional the Hon Rob Stokes MP, NSW Minister for Active Transport Steadyrack Leadership Award – Honourable Mention the Hon Rita Saffioti MP, WA Minister for Transport FE Sports Bike Culture Award the Bikes Palya program, Bicycle South Australia, Cyclecover Built Environment & Urban Design Award Cooks River Bikeway NSW. The Gala Awards Dinner was hosted…

View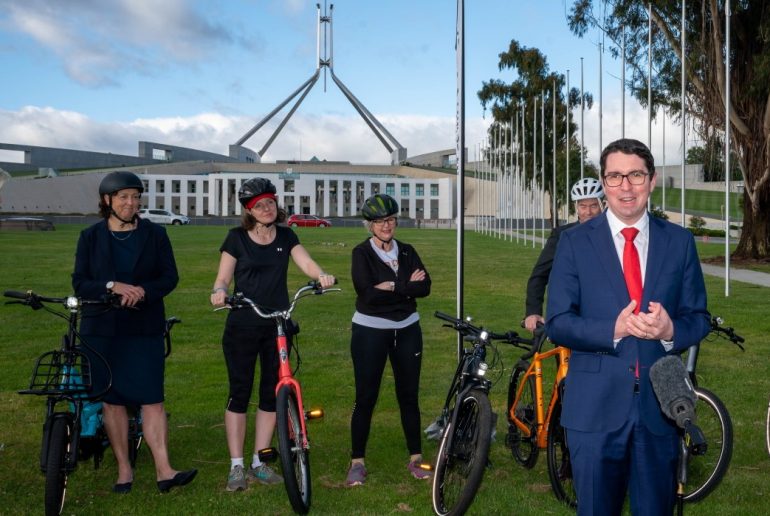 23 November 2022

The Federal Parliamentary Friends of Cycling, with We Ride Australia, today launched the Friendship group for the 47th Parliament with an e-bike test and ride event on the lawns of Parliament House Canberra. The Assistant Minister to the Prime Minister, the Hon. Patrick Gorman, launched the group with the group's Co-Chairs the Member for Swan, Zaneta Mascarenhas MP (Labor), the Member for Fisher the Hon. Andrew Wallace MP (Coalition) and the independent Member for Indi, Dr Helen Haines MP. The event attracted MPs, Senators and key staff from all major parties along with several independents and showcased the latest e-bike…

View
Join us as We Ride!
Cycling is a healthy, accessible and convenient way to help the environment

If you think riding a bike can help the environment, want to see more children riding bikes, or just love cycling, add your voice in support of better bicycling for everyone in Australia.