The national finalists have been announced!
2 May 2017 | Uncategorised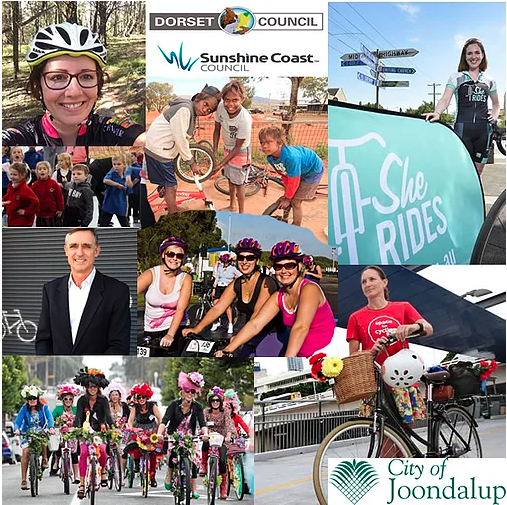 National finalists for the Cycling Promotion Fund's 2017 Cycling Luminaries Awards have been announced following an independent judging process that considered nominations from across Australia in three categories of Leadership, Bike Culture and Behaviour Change, and Built Environment and Urban Design.
The finalists come from seven of the nation's eight states and territories and were selected from a pool of nearly forty nominations for the three categories. Queensland leads with four finalists.
The outstanding interest and health of women's cycling is a feature of the 2017 Awards which will be announced in Brisbane at a gala Dinner on 12 May to be presided over by Queensland Minister for Main Roads and Road Safety, the Hon Mark Bailey.
Five of the eleven finalists are women or women's specific events that encourage more women to ride a bike for health, transport and short everyday trips. Three Councils are recognised for significant efforts to make cycling more convenient, safe and enjoyable for their residents, the leader of Australia's second largest cycling organisation and a successful program engaging youth in remote SA through cycling also make the list of finalists.
See the finalists here!
Tickets are available for the gala dinner and winners will be announced on the night by Minster Bailey and national and international guests in Brisbane for the 2017 Australian Bicycle Summit.
Awards key facts:
Australian Cycling Luminaries Awards are organised by the Cycling Promotion Fund in conjunction with the 2017 Australian Bicycle Summit.
Summaries of finalists can be found on pages 2 & 3.
Gala Awards Dinner to be held at the Queenslander Cricketers Club, Wooloongabba.
Dinner is 7.00 for 7.30pm on Friday, 12th May 2017.
Winners will be announced at the Dinner and posted on www.cyclingawards.org.
Media contact: Stephen Hodge 0411 149 910, shodge@cyclingpromotion.com.au