Does the Australian car lobby have bikes in its election platform?
8 April 2022 | Government relations
The Election is due to be announced within days and Australia's peak motoring group, the Australian Automobile Association (AAA), has published their Federal Election platform titled 'A Plan to Greenlight Australia's Recovery'.
Its members, the state and territory car clubs, have 8.7 million members nationally making them a voice that governments listen to. Some surveys also show more than 10% of their members are cyclists which gives us a strong reason to talk to them.
WeRide supports changes that mainstream bike riding as a key part of the transport mix. We have many positive relationships with these organisations which we believe are vital to getting better outcomes for everyone who rides.
WeRide has worked with many of the clubs over the last decade. In 2021-22, we worked with AAA to achieve better outcomes from the new National Road Safety Strategy 2021-2030 with the result that the Strategy's Action Plan was sent back to all state ministers by the Deputy Prime Minister for re-consideration and improvement. See our news post here.
We will be following major party election commitments and policies throughout the 2022 Election campaign, with a review of the Labor Policy Platform coming soon. Keep an eye out on our socials @werideaustralia to see who Votes4Bikes!
The AAA Election Platform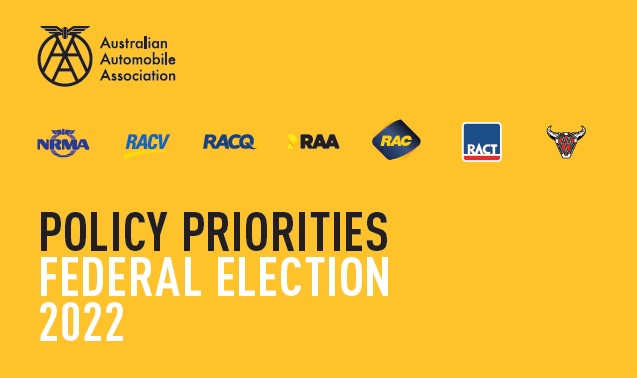 We have pulled out the priority projects from the AAA 2022 Election Platform for each state that relate to infrastructure for cycling and they can be seen below.
The state and territory car/mobility clubs are increasingly supportive of a broad approach to the transport sector and many are developing positive mobility and research agendas for active and public transport alongside their more traditional concerns. These include initiatives like RACV's Arevo trip planner app that gives turn-by-turn instructions for trips by bike.
We encourage everyone to have a look at the AAA's platform. WeRide will continue working with many sectors nationally as we build support for better investment for cycling infrastructure and policy – including with the AAA and its member clubs.
The AAA Election Platform can be accessed here – www.aaa.asn.au/greenlightrecovery
AAA
'Greenlight Australia's recovery, calling on the next Federal Government to …
establish a road safety leadership role for the Commonwealth that leverages its transport funding to incentivise improved road safety outcomes.
NRMA
Commonwealth Avenue Bridge Upgrade – Renewal of transport infrastructure in Canberra to boost road capacity and expand the active transport corridor. Cost TBA
RACQ
Cycling and active transport including Brisbane Green Bridges – Commit to funding projects on the Principal Cycle Network ($50m/yr.) and assist Brisbane City Council in delivering Green Bridge proposals ($50m/yr.). Cost $400m
RACV
Cycling Infrastructure Projects – Improve cycling infrastructure within and leading to inner city Melbourne and regional centres of Geelong, Ballarat and Bendigo, including the 17 key metropolitan strategic cycling corridors recommended by RACV, increased physical separation and protected intersections on principal cycling routes. Cost $200m
RAC
Cycling infrastructure projects – Commit funding towards accelerating delivery of the Long Term Cycle Network for WA (including completion of Perth's Principal Shared Path (PSP) network), to provide continuous and safe cycling infrastructure to / from the Perth city centre and strategically important connectors to activity centres and green bridges. Cost $80m
Cycling infrastructure projects – Commit funding for green bridges to address severance issues and increase cycling catchments for the Perth city centre and major activity centres, delivering safety, health and productivity benefits. Cost $250m
The AAA Election Platform can be accessed here www.aaa.asn.au/greenlightrecovery
All images: AAA