National Safe Routes to School trial site and 2019 Summit dates
12 September 2018 | Community, Events, Government relations, Policy & planning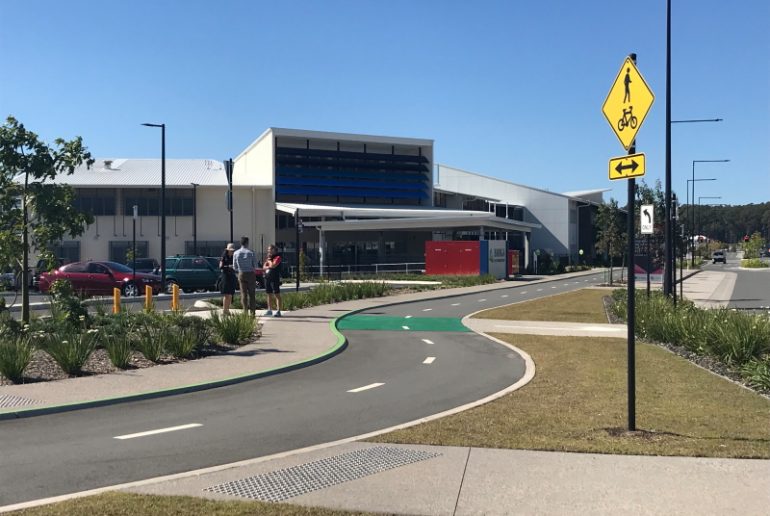 In this We Ride Australia September e-news:
We visit trial site for national Safe Routes to School scheme project
Australian Bicycle Summit host city and dates for 2019
Sunshine Coast infrastructure
Parliamentary Friends of Better Cities in Parliament
Cycling and Walking Australia and New Zealand
Advocacy update
What's on.
As always, there is a lot to talk about and we are constantly pushing for better outcomes for cycling so please add your voice to the Australians who have already said 'We Ride!'

National Safe Routes to School trial site
As we get closer to finding out if our efforts to establish a national Safe Routes to School (SR2S) pilot program – the 'RideScore Sunshine Coast Trial' – have been successful we visited one of the schools that will be a trial site, Baringa Public School in Aura on the Sunshine Coast.
We were shown around the school by Principal, Noel Baggs. Stockland's Senior Environment and Community Development Manager, Mark Stephens, also joined us to explain the developer's commitment to make walking and cycling throughout the development a safe convenient option for all residents.

Above: major separated bike paths go right past the front door of Baringa Public School – every child's (and parents') dream. Not all schools are so lucky.

Above: Note the cycle-priority road crossing which is the main entry point for school motor vehicle traffic.
Our trip to the Sunshine Coast and the Stockland master-planned community 'Aura' was an opportunity to spend time with our project partners, the Sunshine Coast Council.
Council's Senior Transport Planner Peter Duffy and Travelsmart Officer (and national Cycling Luminaries Award winner!) Colleen Penny hosted us on the visit. The Heart Foundation's Active Living Manager, Sheree Hughes, was also with us to look at the innovative school and Aura which was been designed to be an active, healthy community with separated bike routes built in from the start.
A funding application for the 'RideScore Sunshine Coast Project' has been lodged for consideration under the federal Smart Cities and Suburbs Program.

Above: (L-R) Peter Duffy – Sunshine Coast Council, Mark Stephens – Stockland, Colleen Penny – Sunshine Coast Council, Principal Noel Baggs, Sheree Hughes – Heart Foundation and Stephen Hodge – We Ride Australia looking at the almost finished major new bike shed (built to withstand a cyclone!).

Above: existing school bike sheds are already overflowing after just a few months!!
From the school we viewed some of the terrific facilities built for Aura residents and then some of the key links being built right across the Sunshine Coast Council area from Caloundra to Maroochydore.
The trial is due to be conducted in six Sunshine Coast schools from early 2019 until late June 2020. We Ride Australia has committed to co-fund the trial with the Sunshine Coast Council, Stockland, corporate partners and private donors.
The project has been accepted as a qualifying cause by the Australian Sport Foundation and tax-deductible donations can be made on the ASF website here under the name of 'Safe Routes to School': https://asf.org.au/projects/we-ride-australia/.
2019 Australian Bicycle Summit dates and host city
Following an enormously successful sell-out 2018 Summit and Cycling Luminaries Awards, We Ride Australia is pleased to announce that the
will be held in Melbourne, on 14th and 15th May.
The event comprises a two-day Summit program with national and international key note speakers, curated networking opportunities, national meeting of industry and advocates, various break-out sessions and our annual Gala Awards Dinner at which the Cycling Luminaries Awards are presented.

Above: (L-R) Phoebe Dunn – CEO Amy Gillett Fdn; Marcia Ella Duncan OAM – Key Note Address; Tina McCarthy – Winner, Leadership Award; Nicole Rutzou – finalist in Leadership Award.
Announcements on venue, speakers and program will be made in due course.
Aura residential development & Sunshine Coast infrastructure
What does a new master-planned development look like when major walking and cycling links are planned from the start?
We visited a great case-study, Aura on the Sunshine Coast, to see for ourselves and learn about the significant engagement conducted by the Sunshine Coast Council with Stockland, developers of Aura, to plan and build with the infrastructure in place as the first residents moved in.

Above: coolest bike playground you've ever seen?? The commitment to make Aura a 'true Bike City' is clear!

Above: Stunning dedicated walk and cycle bridge coming into the Aura residential development.
As the town centre, further stages of residential development and the industrial business zone are completed We Ride Australia will keep an eye on the difference this will make for those who choose to walk and cycle around this the area. Here are just a few more views of what it looks like.
Other key pieces of infrastructure have been built or are being built on the Sunshine Coast to provide missing links and avoid dangerous road bridges.

Above: the Eudlo Creek Walk/Cycle Bridge was built to provide an alternative to the dangerous and narrow road bridge seen to the left of the new structure. Built using aluminium pre-fabricated sections more commonly used for jetties, it has a much lower profile and weight than standard structures of this type and cost significantly less.

Above: This major new walking and cycling bridge will provide a high capacity link into the centre of Mooloolaba and beach (Bindaree Cres to River Esplanade) and reduces pressure on the light rail development on the parallel Brisbane Road. Expected to open late 2019.
Parliamentary Friends of Better Cities
On Wednesday, August 15 Members and Senators attended the Better Cities forum in Parliament to hear from Prof Jago Dodson on the issues of population growth and why we need better planning to ensure better economic, social and environmental outcomes.
He noted in his preamble that with many of our largest city residents being squeezed for space, starved of affordable housing and left stuck in traffic or standing on buses and trains, they're not happy!

Above: Prof Dodson address MPs, Senators and guests at the Better Cities forum on 15 August.
The Parliamentary Friendship Group for Better Cities was formed in 2014 to 'work together to make Australia's capital and major cities more liveable, more resilient and more productive.'
We Ride Australia is a foundation supporting member and chose to be part of this group that comprises 15 national peak bodies because a) it responds to a significant level of interest in better cities amongst federal MPs and Senators, and b) it ensures cycling is an integral consideration as part of the federal sustainable cities narrative.
The group, along with Parliamentary convenors Trent Zimmerman MP (Liberal), Andrew Giles MP (Labor) and Senator Jordan Steele-John (Greens), host several events in Parliament each year. If any of the members of We Ride Australia are interested in attending these events with us, please drop us a line.
What the group aims to achieve;
Better Institutions
Better Funding
Better Process
Better Efficiency
Professor Dodson presented the case for the Commonwealth to start laying out a roadmap for a future national Planning framework. Download his presentation here: http://ozebus.com.au/LiteratureRetrieve.aspx?ID=243655.
CWANZ
Cycling and Walking Australia and New Zealand (CWANZ) operates in the national interest to implement strategies and actions that will rapidly improve the conditions for, and the uptake of walking and cycling on transport and recreation networks across Australia and New Zealand.
We Ride Australia is one of the leading national cycling advocacy groups to be part of this critical national council. See the new website here: https://www.cwanz.com.au/
The next meeting will be held on 20th September in Sydney to finalise key strategic actions prior to the next federal election.

Above: the CWANZ website.
Advocacy update
New Zealand announces $390m for walking and cycling over next 3 years!
Landmark investment of $16.9bn to 'create a safer, more accessible, sustainable and affordable transport system' said Fergus Gammie, head of NZTA. LINK
It includes a record $NZ390m for walking and cycling that will fund major links in their capital as well as new trails and bike lanes across the country.
"More and more Kiwis want the freedom to cycle safely around their towns and cities, and this investment in safe cycle infrastructure is needed to make that possible," said A/Assoc Minister Mr Shaw. LINK
This corresponds to around $NZ27 per person, per year for the next 3 years. Well done NZ!!
LAST MINUTE: The expert Report of the 'INQUIRY INTO THE NATIONAL ROAD SAFETY STRATEGY 2011-2020 SEPTEMBER' was released today (12 September) and provides significant recommendations to the Government to address road crash deaths and trauma, review the national road safety strategy's effectiveness and provide recommendations and priority actions for consideration.
12 recommendations cover a wide range of measures, from Cabinet-level responsibility for road safety to a $3bn annual road safety fund, a zero road death by 2050 target, effective benchmarking of KPIs and broad implementation of safety techologies and innovation.
The report can be accessed here; LINK.
What's On!!
Biketober Business Challenge, NSW. 'Get back on a bike this October and rediscover the joys and benefits of cycling!' For more info: lovetoride.net/nsw.
National Ride2Work Day. Join 'Australia's biggest celebration of commuter riding' on Wednesday, October 17th. For more info: Ride2Work Day.
CycleLifeHQ Bicycle Tourism Conference & Australian Walking & Cycling Conference is on in Bendigo from Friday, 26th October. Hosted by the City of Greater Bendigo, there is a jam-packed program of five days with of two conferences, presentations, professional workshops, activities, events and networking opportunities. Not to be missed! Conference website.
Thanks to Our Supporters!
Thanks to all our Foundation Benefactors and Members. Without your valuable contributions We Ride Australia would not be able to make a difference. Everything we do is focused on making riding a bike a positive, healthy and safe reality for people of all ages throughout Australia.
We are always pleased to welcome new members. If you're not yet a member or would like to recommend a new member, please contact our Development Director, Phil Latz at phil(at)weride.org.au.
Read more here: Partners