How did we get to this point? National #Ride2Work Day
19 October 2022 | Events
Today is the one day in the year we celebrate our choice to ride a bike to work. Our bicycle organisations, progressive Councils and governments reinforce the steps they are taking to help us along the way whether that is advocacy, programs or putting the infrastructure on the ground.
None of this is a given, it takes commitment, political will and investment. But with significant numbers of Australians making it clear they would consider riding for transport if the conditions were better, these investments pay off. Sydney's six new COVID-response bikeways have had such a growth in use their financial returns on investment have been measured at just 18 months, unheard of for transport infrastructure!
At WeRide we thought we would look at how we have got to this point and have a look at just one recent case study of how our state and federal governments and larger cities are making a difference to our daily commute and give more Australians who are interested a reason to try commuting by bike.
Above: Grand opening of High Wycombe Station on 9 October showing bicycle parking.
The benefits of an increasing number of Australians choosing to ride a bike for their short trips are also great news. Actively commuting keeps us healthier, avoids the costs of running a car all the time and indirectly contributes to lowering traffic congestion and transport emissions, which account for 19% of Australia's carbon emissions. Plus, it is just a really enjoyable way to get to work each day!
Ten days ago we closely followed the launch of WA's totally new Metronet airport rail line by Premier Mark McGowan, Prime Minister Albanese and Transport Minister Saffioti. It may not seem like a great #Ride2Work initiative at first glance but the state is leading Australia in linking its very dispersed city with a now almost completed principal bicycle network. In addition, every rail station has high quality bike parking linked to the bikeway network and each one has smart card secured, free, CCTV-covered cages are in very close proximity to the station entrance while car parking is up to 300m away.
Above: High Wycombe Station's Velopa Easylift racks in a secure cage that is free to access with a transport card once registered.
Linking arrivals at your train or bus stations to walking and riding networks makes a lot of sense, most commuters live between 500m and 3 kilometres from their local station, distances that can be easily walked or cycled. Car parks are often full by 7am.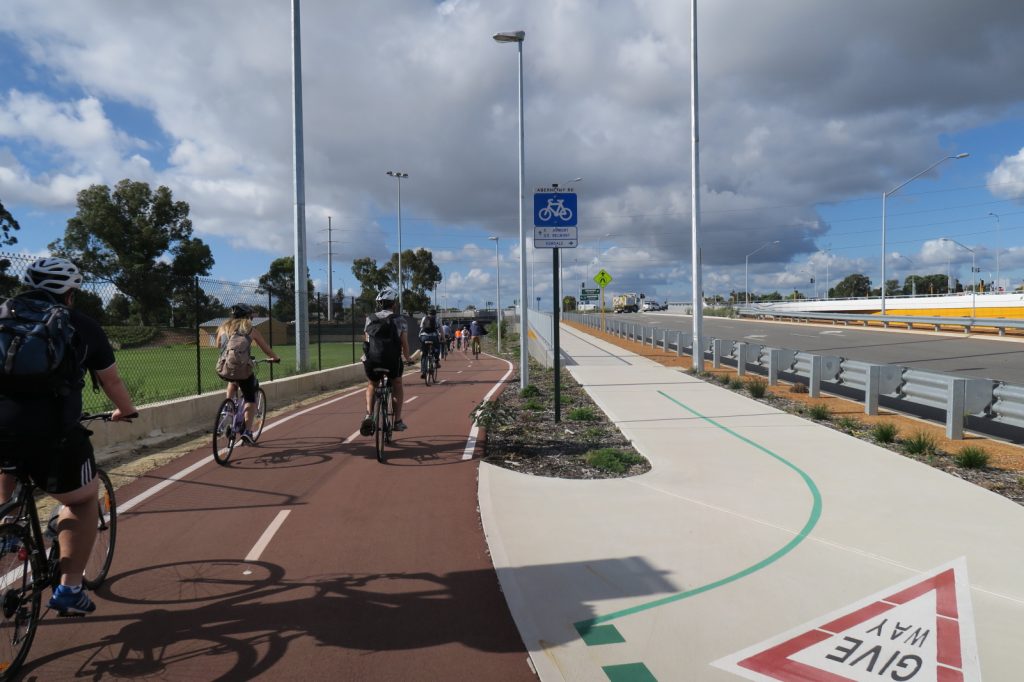 Above: Principal bikeway along a major arterial – the entire city of Perth's bike network is essentially complete.
The opening of the new Metronet stations had a massive turnout. It is the first time people along the route of the line have had commuter rail. Many of the residents told staff they intend to commute by bike now.
High Wycombe Station has 88 of the very latest Dutch double decker Velopa Easylift bike racks that make it very easy to load a bike on the top deck. Redcliffe Station has 96. At the opening, the Public Transport Authority (PTA) conducted a promotion giving away very secure 'D-locks' for bikes which ran out during the day.
Above: Perth Station bike parking
The PTA has approximately 4000 secure parking places at over 52 suburban rail stations and this is increasing as demand requires more.
Western Australia is leading the way in the provision of great facilities for walking and cycling to commuter rail and on #Ride2Work Day we'd like to recognise Minister Saffioti and the work her department, the PTA and bike organisation WestCycle have done to get such significant investment for the daily commute.
Happy #Ride2Work Day Australia!
National Cycling Luminaries Awards
The national Awards will be announced at a Gala Dinner at Randwick Racecourse on Friday evening, 25th November. They will be held as part of the Micromobility Conference which is happening from 25-26 November. This unique event will promote urban #micromobility and showcase adaptable, environmentally friendly solutions revolving around electric lightweight and micro-vehicles including e-bikes and e-scooters and so much more!
Tickets for the Gala Dinner are available online as part of your conference package or separately. Go to www.micromobilityconference.com and click on register to get yours today!
More info:
To see more of the work We Ride Australia does, go to our website.
To visit the WeRide Awards page, click here.
Photo credits: High Wycombe Station pics – PTA, Perth infrastructure and Perth station – WeRide.