CELEBRATING #WorldBicycleDay
2 June 2019 | Events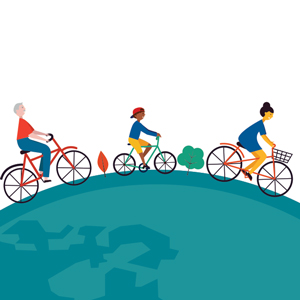 CELEBRATE #WorldBicycleDay
WITH SOME AMAZING PRESENTATIONS ON THE FUTURE OF CYCLING
FROM THE AUSTRALIAN BICYCLE SUMMIT!
We Ride Australia is a proud member of the World Cycling Alliance and supports World Bicycle Day on 3 June each year. #WorldBicycleDay
The 2019 Australian Bicycle Summit and Cycling Luminaries Awards were the biggest and the best ever and World Bicycle Day is a great reason to launch the first videos from the 2019 Summit proceedings online for everyone to view!
The thoughts, expertise and knowledge of our expert speakers are a great resource for everyone interested in future challenges for cycling in Australia and beyond! The Summit was just over two weeks ago and soon every presentation and every speech will soon be on our website.  Check out the 2019 Summit Photo Gallery and the Cycling Luminaries Awards Photo Gallery pages to re-live the experience.
Thanks to our speakers and thanks to everyone who attended! Click on a speakers picture to go to Summit videos.
'Velo Soirée' by Pushys of Canberra
Pushys renowned annual fundraising event will this year be benefiting We Ride Australia's, 'Safe Routes to School' program to help Australian children safely ride, walk and scoot to school. In an event not to be missed of fundraising, entertainment, drinks and food orchestration, it's also a unique opportunity for you to bid for some fantastic high-end bikes, plus 'money can't buy' prizes including a day riding in the neutral support car during the 2020 Tour Down Under.
For more information about the event check out our event page here.
2019 Transport Study Tour – North America
We Ride Australia will be leading its next transport Study Tour to the West Coast of America in September this year.
Continuing to focus on creating communities for people, our program this year focuses on technology and change with a broad range of transport site visits, presentations and meetings that will educate, inspire and empower all participants in an intense 5-day immersion.
Read more: www.weride.org.au/what-we-do/2019-study-tour-north-america