2019 Australian Bicycle Summit
'smart tech and active transport, towards zero'
The 2019 Australian Bicycle Summit was one of the biggest and best events held by We Ride Australia at the impressive Marvel Stadium Docklands, Melbourne on 14th and 15th May 2019.  The theme of 'smart tech and active transport, towards zero' prompted some interesting and challenging presentations from experts across Australia and overseas, as we explored the impact that new and emerging technology may have on cycling and the safety of cyclists smartin the future.
The speakers at the 2019 Summit were headed by our International Key Note speaker and CEO of Emerging Transport Advisors in San Francisco, Timothy Papandreou.  Our inspiring and engaging speakers provided a wholistic approach to dealing with the unavoidable implementation of high technology developments in future mobility and transportation.
The 2019 Summit showcased 5 major events across two days, more details of each can be found below.  Stay tuned as we continue to update these pages as new presentations and information are released.
As always, we are grateful to our 2019 Australian Bicycle Summit sponsors and our Principal Partner, the Transport Accident Commission for supporting this important event in cycling.
Developing the Advocate Workshop
A brand new training course for We Ride Australia and developed in conjunction with cycling advocacy experts Day Hodge & Associates, the workshop is designed for all bicycle advocates to help maximise the impact of their advocacy efforts. The course weaves together theory and practice and offers plenty of opportunity for discussion and Q&A with leading industry experts and has received high praise from attendees in 2019.
The theory: lobbying 101 –  lobbying do's and don'ts
View from the other side: presentations from state/local government representatives
The practice: real life case study – putting the theory into practice
Expert panel: Q&A with industry experts
Participant handout: tips to maximise lobbying success
Presenters & panelists:
Adrienne Day, government relations, media and communications expert, Co-founder and Director Day & Hodge Associates
Amanda Stevens, 3-term Mayor of the City of Port Phillip, lawyer, strategy consultant for the City of Melbourne
Myfanwy Lawrence, Active Transport Integration Manager, Transport for NSW

Bernadene Voss, Councillor and 3-term Mayor of City of Port Phillip, Board member Municipal Association of Victoria
Stephen Hodge, Director – National Advocacy, We Ride Australia
Ros Spence MP – Parliamentary Secretary for Road Infrastructure
2019 Photo Gallery
View more photos from the Developing the Advocate Workshop
National Bicycle Organisations Meeting

Bicycle organisation Summit Consensus Statement
Australian bicycle organisations developed a national consensus statement in their Summit forum to guide future sector-wide advocacy. It was announced as part of the closing session of the Summit.
"We are committed to a nation where every child and every adult
can enjoy riding a bike safely for transport, recreation and sport. 
Together we will make Australia healthier and more sustainable
through a national commitment to cycling education, training and quality infrastructure."
The organisations supporting this statement are every national, state and territory cycling organisation in the nation:
Amy Gillett Foundation | Bicycle Network | Bicycle NSW | Bicycle Qld
Bike SA | Bicycling Western Australia | BMX Australia | Cycling Australia
MTB Australia | Pedal Power ACT | We Ride Australia | WestCycle
Ray Rice, Advocacy Manager for Bicycle NSW, presented the Consensus Statement in the final Summit session on behalf of all Summit bicycle organisations and you can watch it here: https://vimeo.com/279029334.
Legends Night Social Evening
Australian Bicycle Summit Conference

'Smart tech and active transport, towards zero'
Supported by our Principal Partner, Transport Accident Commission, leaders from corporate Australia, government, Australian cycling organisations and advocates came together for an engaging and challenging Summit program that covered the implementation of new technology in future mobility and transportation and the impact this may have on cycling and active transport in the future.
Founder and CEO of Emerging Transport Advisors in San Francisco, Timothy Papandreou headlined the Australian Bicycle Summit this year.  Tim brought an expert understanding of how new technology that is being implemented in automotive transportation is being developed with the vulnerable user in mind and how cities and developers need to accommodate both modalities into their planning.
The Summit is a vital national initiative that helps all of us present bicycle riding as part of the solution for a healthy, productive and liveable Australia – something that was supported by academics, corporates and city leaders at the Summit.
It is now a nationally recognised platform for greater engagement with politicians and decision makers and compliments all the great work going on around the country. It couldn't happen without the support of our colleagues across the bicycle sector and our sponsors and Principal Partner – thanks to everyone!
View 2019 Speakers & Presentation Videos
Presentation Videos from the 2019 Summit can be found here
2019 Photo Gallery
View more photos from the 2019 Australian Bicycle Summit.
Industry Leaders Breakout Session
Initiated in 2018, the Bicycle Industry Leaders breakout session has become an integral component of the Australian Bicycle Summit program. This session provides an environment for leaders and operators within the Australian bicycle industry to come together to discuss important industry issues and work collaboratively towards a better future for cycling in Australia.
Outcomes/Key Points from 2019
2019 Photo Gallery
View more photos from the 2019 Industry Leaders breakout session.
2019 Summit Gala Dinner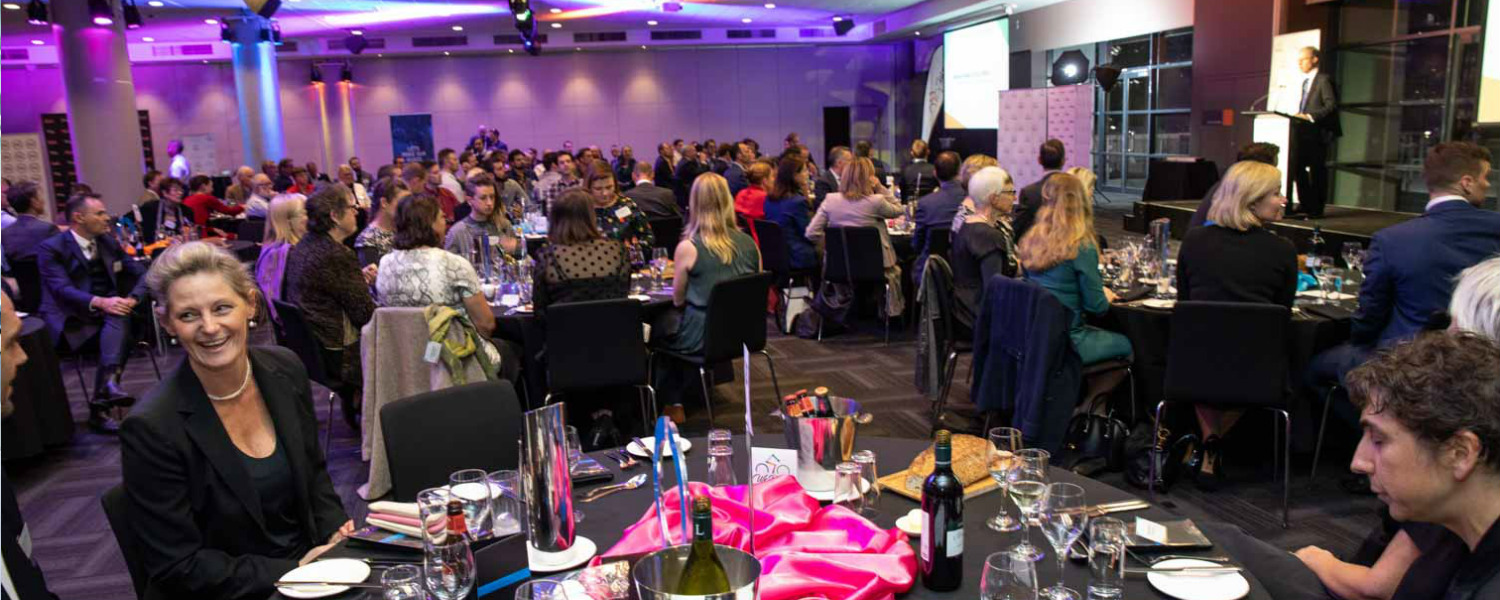 The 2019 Australian Bicycle Summit concluded with the Cycling Luminaries Awards Gala Dinner at Marvel Stadium overlooking the stunning Docklands Harbour.  As part of the dinner, the 2019 Cycling Luminaries Awards were announced with Summit Principal Partner, Transport Accident Commission, represented by CEO Joe Calafiore.
The Awards ceremony was held in presence of more than 140 invited VIPs and guests from across Australia.
2019 Award Winners
To see pictures and find out more about the award winners, visit the links below.
2019 Photo Gallery