Bicycles ride the wave into Parliament
8 October 2020 | Announcement, Government relations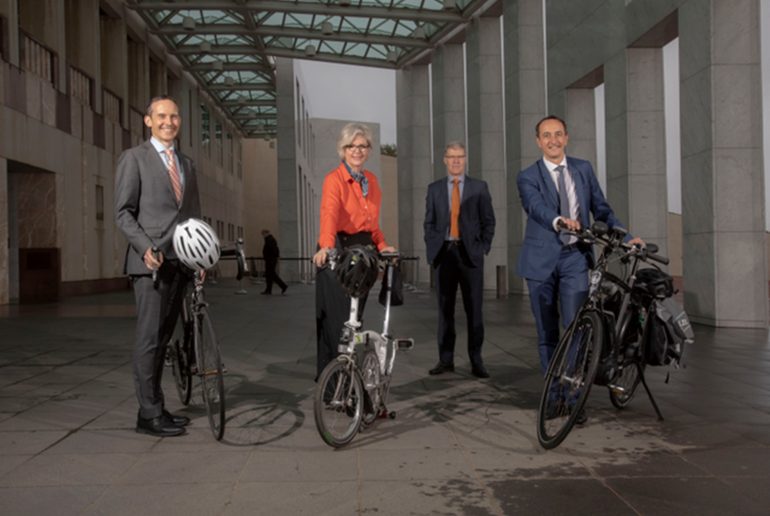 We Ride Australia is excited to announce the establishment of Parliamentary Friends of Cycling – the culmination of more than a decade of federal advocacy by We Ride. The Friendship group marks a coming of age for bicycle riding in federal Parliamentary circles.
An initiative of We Ride Australia's Stephen Hodge and Dave Sharma, the Member for Wentworth (Liberal), the group will be Co-Chaired by Dave Sharma, Dr Andrew Leigh, the Member for Fenner (Labor) and Dr Helen Haines, the Member for Indi (independent). A further nineteen Parliamentarians signed up within hours to support the group's establishment.
At a time when bicycle riding is booming, as Australians re-discover the joys of two wheels for transport and to stay active and healthy during the COVID pandemic, this group demonstrates our Parliamentarians are also clearly very interested in a greater engagement around the benefits of riding bicycles.
The group will provide a non-partisan federal forum for Parliamentarians to meet and interact with riding and active transport.
The opportunity to host and facilitate discussions on riding bicycles in Parliament House amongst federal Members from all parts of Australia is an important win for bicycle riding in this country. The benefits of increased bicycle riding include better physical and mental health, improved community liveability, equitable and sustainable transport options and economic development opportunities in regional Australia through destination marketing and visitation built around bike facilities and trails.
We Ride Australia's Stephen Hodge will coordinate the group's activities.
"I was delighted to get such a positive response to the idea from Dave Sharma when I approached him about championing bicycle riding in Parliament," said Hodge.
"Andrew Leigh and Helen Haines also very quickly expressed their support and we were on our way,
"An email from Dr Leigh to the entire Parliament resulted in enough support from MPs and Senators within a couple of hours to set up the Friends and I think it showed we had really captured the moment for bike riding in Australia" Mr Hodge said.
The Parliamentary Friends of Cycling is led by three Co-Chairs with support from across the political spectrum.
"We've seen a massive increase in cycling during COVID-19, for both transport and recreation. As an enthusiastic rider myself, I'm keen for the Parliament to get behind this trend and do more to encourage people to lead active lifestyles," Dave Sharma, the Member for Wentworth said.
"From Mulga Bill to Anna Meares, cycling is intertwined with the Australian story. And no part of Australia loves cycling more than my home city of Canberra. From the 6am bunch ride to mountain biking with my kids, cycling is one of life's true pleasures, and I'm keen to encourage its uptake nationwide" said Dr Andrew Leigh, the Member for Fenner.
"Like lots of people, I have strong memories of learning to ride a bike. The thrill of finding my balance has lasted a lifetime. The Parliamentary Friends of Cycling is all about the love of cycling and the real benefits it can bring to people and to our environment when we leave the car in the shed and jump on the bike instead," said the Member for Indi, Dr Helen Haines.
"In regional areas like the one I represent, the economic benefits through cycle tourism are really important and will continue to contribute to our communities as we emerge and recover from the COVID lockdown," said Dr Haines.
The first event for the Parliamentary Friends of Cycling will be held in an upcoming Parliamentary session and showcase the latest e-mobility trends. The latest electric-assist bicycles, family e-bikes and a range of utilitarian and freight bikes will be featured.
The Co-Chairs will work with Stephen to determine topics of interest to MPs and develop the future program of events. All MPs and Senators in Parliament are invited to attend Friendship Group events and hear from subject experts and network with colleagues and invited guests. Parliamentary Friends of Cycling will be launched with a short photo opportunity in front of Parliament at 9am on Thursday, 8th October
The MPs and Senators who supported the establishment of Parliamentary Friends of Cycling are –
| | | | | | | |
| --- | --- | --- | --- | --- | --- | --- |
| Hon | Kevin | Andrews | MP | Member for Menzies | Vic | Liberal |
| Dr | Katie | Allen | MP | Member for Higgins | Vic | Liberal |
| Hon | Terri | Butler | MP | Member for Griffith | Qld | Labor |
| Mr | Milton | Dick | MP | Member for Oxley | Qld | Labor |
| Hon | Mark | Dreyfus | MP | Member for Isaacs | Vic | Labor |
| Hon Dr | David | Gillespie | MP | Member for Lyne | NSW | National |
| Mr | Luke | Gosling OAM | MP | Member for Solomon | NT | Labor |
| Dr | Helen | Haines | MP | Member for Indi | VIC | Independent |
| Ms | Madeline | King | MP | Member for Brand | WA | Labor |
| Mr | Andrew | Laming | MP | Member for Bowman | Qld | LNP |
| Hon Dr | Andrew | Leigh | MP | Member for Fenner | ACT | Labor |
| Ms | Gladys | Liu | MP | Member for Chisolm | Vic | Liberal |
| Dr | Fiona | Martin | MP | Member for Reid | NSW | Liberal |
| Ms | Julie | Owens | MP | Member for Parramatta | NSW | Labour |
| Senator | Janet | Rice | | Senator for Victoria | Vic | Greens |
| Hon | Scott | Ryan | MP | Senator for Victoria | Vic | Liberal |
| Ms | Rebekah | Sharkie | MP | Member for Mayo | SA | Centre Alliance |
| Mr | Dave | Sharma | MP | Member for Wentworth | NSW | Liberal |
| Hon | Warren | Snowden | MP | Member for Lingiari | NT | Labor |
| Hon | Angus | Taylor | MP | Member for Hume | NSW | Liberal |
| Senator | David | Van | | Senator for Victoria | Vic | Liberal |
| Mr | Bert | van Manen | MP | Member for Forde | Qld | LNP |
| Mr | Ross | Vasta | MP | Member for Bonner | Qld | LNP |
| Mr | Andrew | Wallace | MP | Member for Fisher | Qld | Liberal |
| Mr | Tim | Watts | MP | Member for Gelibrand | Vic | Labor |
| Mr | Josh | Wilson | MP | Member for Fremantle | WA | Labor |