February news – Summit Principal Partner, Safe Routes to School & other news
28 February 2019 | Community, Events, Government relations, Policy & planning
Major Announcement: 2019 Summit partners with TAC
We Ride Australia is delighted to announce [LINK] the Transport Accident Commission – TAC – will partner with We Ride Australia for the 2019 Australian Bicycle Summit and Cycling Luminaries Awards.
We Ride Australia is ecstatic to have TAC's strong vote of confidence in the objectives of the Summit and national role of We Ride Australia.
This year's theme 'smart tech and active transport, towards zero', recognises the changing face of transport and impact on active travel, and the role technology will play in how we move in the future.
One of the main attractions will again be the national Cycling Luminaries Awards that will be announced at a Gala Dinner to conclude the Summit.
The Summit will be held across two venues, Marvel Stadium (LINK) and the new Melbourne Lendlease building in Docklands, in the heart of Melbourne on Wednesday, 15th May.
Key information for the 2019 Summit:
Australian Bicycle Summit dates, 14 – 15 May, 2019
Summit venues the Victory Room, Marvel Stadium, 740 Bourke St Docklands, Melbourne, and Lendlease 699 Collins St Melbourne
Registration for the Australian Bicycle Summit, Gala Awards Dinner and special advocacy and lobbying 101 workshop will open at 5pm on Thursday, 7th March.
Visit the Summit page to find out more and to lock in your special early bird rates (from 7/3/2019). LINK
---
2019 Australian Bicycle Summit Sponsorship Opportunities Now Open
This year's Australian Bicycle Summit is shaping up to be our biggest ever. We already have several key sponsorship and engagement opportunities filled but there are still some open opportunities if you'd like to get involved.
These include Major Sponsors, Cycling Luminaries Awards Sponsors, Table Sponsors and Session Sponsors.
For more information please contact our Development Director, Phil Latz, at phil (at) weride.org.au
---
Lobbying 101 – workshop
We Ride Australia in partnership with an industry expert will deliver a lobbying 101 workshop as part of the Australian Bicycle Summit.
This workshop has been developed with all bicycle advocates in mind. It is designed to help you understand how you can maximise your impact and results for cycling as part of a local bicycle user group or other efforts to get more people riding.
Workshop will include:
the theory: lobbying 101 presentation –  lobbying do's and don'ts
presentations from a current state member, transport bureaucrat and local councillor on advocacy from their perspectives
the practice: real life case study and opportunity for participants to ask questions/seek advice specific to their current/planned advocacy activities.
At the end of the workshop, participants to be provided with a document containing key advocacy tips and guidance to assist them to plan and maximise the success of lobbying campaigns.
Email yes(a)weride.org.au for further information.
Towards the federal election
Australian bicycle organisations utilised the 2018 the Australian Bicycle Summit to develop a consensus statement outlining a framework for action that will be pursued by all organisations in the lead up to the election. It reads:
"We are committed to a nation where every child and every adult can enjoy riding a bike safely for transport, recreation and sport. Together we will make Australia healthier and more sustainable through a national commitment to cycling education, training and quality infrastructure."  [article link]
As we move towards the election we are continuing to work with all parties to build the best outcomes possible for cycling, and the joint approach is critical to increase our success. Most commitments are likely to be announced once the election has been called, but in the meantime a page with what we know about the positions of the main parties can be found here.
Riders on the Hill
The final Parliamentary Cycling Group rides of the 45th Parliament happened over the last two weeks in Canberra. Probably one of the most important efforts to build relationships around cycling, we have escorted MPs, Senators and staffers on around 60 social rides over the course of the last three years of the current Coalition government. This is the 15th year we have run the group.
Riders on the Hill allows We Ride Australia to develop and maintain political relationships across all major parties to support our ongoing lobbying work.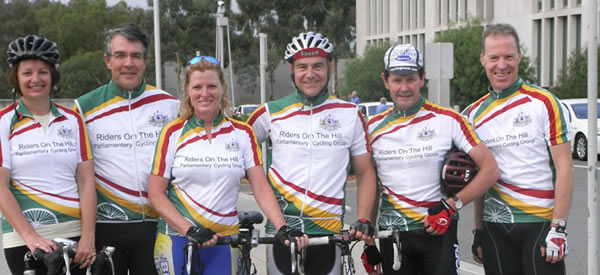 Above: Riders on the Hill in 2009.
A national Safe Routes to School framework
We Ride Australia is committed to building a more sustainable approach to making it easier for children everywhere to walk, scoot and ride to school.
In partnership with the Sunshine Coast Council and Health Research Institute at the University of Canberra we have submitted a grant funding application to the federal governments 'Move It AUS' program which would assist us run a national trial for a comprehensive approach to active school travel.  See our story on this in the last e-newsletter here [LINK].

Above: The Sunshine Coast's Baringa Public School, one of 8 schools to host the Safe Routes to School trial.
You Can Now Tap to Support Safe Routes to School
We've launched a trial of electronic donation devices to raise money for Safe Routes to School. We'd like to reverse the trend of the past 50 years which has seen more and more Australian children being driven to school and fewer than ever cycling or walking to school.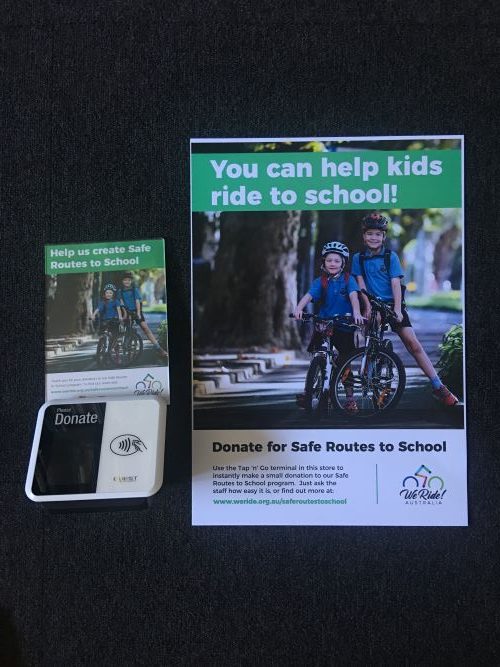 After an initial trial at the Sustainable Living Festival, we now have Quest Tap n Go electronic donation units in three leading bicycle stores who we'd like to thank for taking part in this trial:
Velo Cycles, 815 Nicholson St, Carlton North, Vic
Woolys Wheels, 82 Oxford St Paddington, NSW
Manly Cycles, 36 Pittwater Rd, Manly NSW.

Above: the three shops trialling our Tap n Go electronic donation units; Manly Cycles, Velocycles and Wooly's Wheels.
Please support these stores! You can donate through any of these stores simply by tapping your credit or debit card.
If you have a retail store and would like to trial a unit, please contact Linda Brown on 0414 684 747 or email fundraising (at) weride.org.au
When a small business needs bike parking!
How does a health clinic provide staff parking in a 1927 heritage building with no safe outside bike parking area, little space inside, 400 people through the door each week and several staff who ride to work?
This Canberra business built a feature wall in the reception after deciding on this solution, getting it designed, built and ready for use – all in about 8 days for $1,400! Sometimes simple solutions are all you need to look after staff who would rather ride!
Above: a constrained reception and the simple, quick and cheap solution found to cater for riding to work!
Cycling and Ministerial Reference Groups
We Ride Australia continues to represent bicycle interests nationally on a range of state, territory and federal Ministerial advisory Councils.
Ministerial Cities Reference Group
We Ride Australia was invited to attend the Ministerial Cities Reference Group in Western Sydney on 25 & 26 February to represent the cycling sector. The meeting preceded a joint Australia-New Zealand Cities Symposium. The Hon Alan Tudge MP, the Minister for Cities, Urban Infrastructure and Population hosted the meeting and a Trans-Tasman Cities Symposium with New Zealand's Transport Minister, Hon Phil Twyford.
We Ride Australia has held a position on the Ministers reference group since he took the portfolio under the current government.
A large delegation from NZ joined Australian experts to discuss how we can continue to improve the productivity and liveability of our major cities. We Ride Australia joined other delegates for a tour of key sites relevant to the Western Sydney City Deal on 26 February.
Queensland and ACT Cycling Advisory Groups
We Ride Australia also sits by invitation on two state and territory advisory groups with regular meetings providing counsel and feedback directly to the relevant Minister or senior manager.
What's On
Melbourne's west! On Monday 4 March, Cycling to School Forum with Tim Watts + expert panel. Here are the details of the event: Link to FaceBook event
NSW state election, 13 March.
SAVE THE DATES! The Australian Bicycle Summit will be held in Melbourne for the first time on 14th and 15th May. Kicking off with an informal, fun get together in the CBD, a full day's expert conference with specialist break-out sessions and then culminating in a gala Cycling Luminaries Awards Dinner, this is an event not to be missed. More info here.
SAVE THE DATE! Join us in Canberra on the 10th July for the biggest ever Pushys Gala Fundraising dinner event. It will be a big night for bike buffs and cycling friends. Hosted and organised by Pushys in Canberra at their mega store in Fyshwick, the Pushys fundraisers are already a major fixture on the national cycling scene. Stay tuned for online auction and ticketing details.
2019 Expert Study Tour will take our delegates to leading cities in North America for the first time after several successful visits to the Netherlands. The program will include Vancouver, Portland and San Francisco where we will visit Google's autonomous vehicle company, Waymo, and Uber headquarters to discuss 'Mobility as a Service' (MAAS). Dates to be confirmed, but expect a late September Study Tour.

Welcome to our Newest Members!
We Ride Australia greatly appreciates the many supporters and welcomes the new organisations who have joined us as members over the past year. Our membership has more than quadrupled in this time, supported by our new structure, which also welcomes members from outside the bicycle industry to expand our traditional base.
We'd like to thank our newest members who include:
Après Vélo
Baum Cycles
Bicycle SA
Bykko
Cam's Cycle Coaching
Cuore of Switzerland
De Grandi Cycle & Sport
Dyson Bikes
Ethos Urban
GTR Events
Industry Super Property Trust
Makin' Trax
Monkeysee
Mountain Bike Australia
Pedal Power ACT
Ride Sports
Rilu eBikes
RobertsDay
Rowney Sports
Safe System Solutions
Sydney Electric Bikes
Uber
Read more here: www.weride.org.au/who-we-are/partners