e-Bikes ride into Parliament
23 November 2022 | Events, Government relations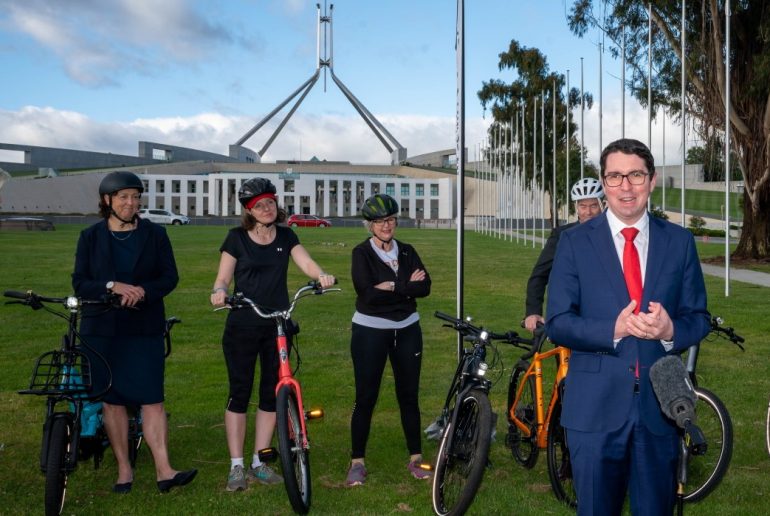 The Federal Parliamentary Friends of Cycling, with We Ride Australia, today launched the Friendship group for the 47th Parliament with an e-bike test and ride event on the lawns of Parliament House Canberra.
The Assistant Minister to the Prime Minister, the Hon. Patrick Gorman, launched the group with the group's Co-Chairs the Member for Swan, Zaneta Mascarenhas MP (Labor), the Member for Fisher the Hon. Andrew Wallace MP (Coalition) and the independent Member for Indi, Dr Helen Haines MP.
The event attracted MPs, Senators and key staff from all major parties along with several independents and showcased the latest e-bike and Micromobility technology available to Australians of all ages and abilities. WeRide Board member Osher Gunsberg was on hand to assist with the formalities and conducted numerous interviews with Parliamentarians that we will post in coming days.
Supported by Trek, 99 Bikes and Lug and Carrie, political leaders tested a wide range of bikes including cargo, folding, commuter, gravel and mountain bikes.
The Parliamentary Friendship Group is an influential platform that allows WeRide and the bicycle sector to engage with Parliamentarians and bureaucratic decision makers. It promotes engagement and allows us to advocate on behalf of bicycle riders and the entire sector.
Conversations today focused on the benefits of e-bikes for more efficient transport systems better physical and mental health, contribution to a low carbon future, improved community liveability and environment, increased transport equity and regional economic development.
Parliamentarians attending were:
Hon Pat Gorman, Assistant Minister to the Prime Minister
Zaneta Mascarenhas, the Member for Swan & Co-Chair
Hon. Andrew Wallace, the Member for Fisher & Co-Chair
Dr. Helen Haines, the Member for Indi and Co-Chair
Chris Steel, ACT Minister for Transport
Dr David Gillespie, Member for Lyne
Dr Ged Kearney, Assistant Minister for Health and Aged Care
Dr Monique Ryan, the Member for Kooyong
Kate Chaney, the Member for Curtin
Allegra Spender, the Member for Wentworth
Dr Daniel Mulino, the Member for Fraser
Senator Janet Rice, Greens Senator for Victoria
Stephen Campbell, the Office of Rebekha Sharkie MP
Luke McClean, the Office of Zali Steggall, and
Osher Gunsberg, TV personality and Board of WeRide.
WeRide will be uploading a range of interviews between Osher Gunsberg and participants including the Assistant Minister to the Prime Minister, Co-Chairs, MPs and ACT's Minister for Transport, Chris Steel in coming days.
Facts and stats
The sector has a direct industry output of $6.3 billion in Australia
The industry supports 34,295 direct jobs
An e-bike is a bicycle with an electric motor that assists the rider when pedalling
Riding bikes is a legitimate and realistic transport option for the 50% of all trips that are 5km or less
E-bikes support more people of all ages and abilities to ride, carry children & other loads, and is attracting people to ride a bike for their trips to local shops, school & work
Riding bikes is one of the fastest and most efficient methods we already have to decarbonise transport and reduce our dependency on fossil fuels.
E-bike batteries use about 30 cylindrical lithium-ion cells (3.3kg). A Tesla 3 uses 4,416 cells (long-range model – 530kg). One EV battery therefore corresponds to the number of batteries required for around 147 e-bikes!
E-bikes are popular: 5X more e-bikes were sold than EVs in 2021-22, with sales growing over 800% to 75,000 in the 5 yrs to 2021-22.
Australians are ready to ride: More than 10 million Australians chose to ride in 2021 with many getting on bikes during the pandemic.
Accessibility: e-bikes & other light electric vehicles reduce barriers to mobility for older riders and those with a disability.
We Ride Australia is the national, independent voice for cycling and supports the Co-Chairs for the Parliamentary Friends of Cycling events.
Media contacts:
Peter Bourke, Executive Officer, We Ride Australia on 0438 871 271 or peter@weride.org.au. Photos available on request.