2018 Bicycle Summit – Awards winners & Summit outcomes
2 July 2018 | Events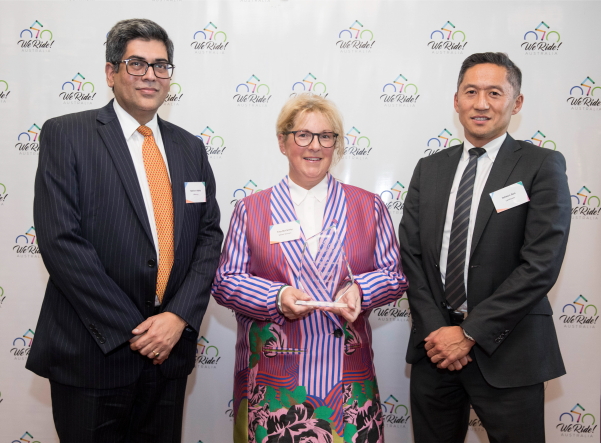 2018 Australian Bicycle Summit and 
14th Cycling Luminaries Awards
Winners of the 14th national Cycling Luminaries Awards have been announced at a Gala dinner held as part of the 2018 Australian Bicycle Summit in Sydney on 20 & 21 June.
The Summit organised by We Ride Australia brought together Australian bicycle sector organisations with industry & corporate leaders and government decision makers to engage on progress, investment, policy and future strategy for bicycling.
The 2018 Awards were announced with Summit Principal Partner, Transport for NSW, represented by Deputy Secretary Clare Gardiner-Barnes joining hosts Lendlease at their stunning global Barangaroo headquarters overlooking Sydney Harbour.
The Awards ceremony was held in presence of invited VIPs and guests from across Australia. The Awards winners were:
Tina McCarthy – Leadership Award
Sunshine Coast – Bike Culture Award
Maydena Bike Park – Built Environment Award
The finalists were selected from a pool of nominations from across Australia that included the people, places and programs that are making Australia a better place to ride a bicycle.
Five of the nine finalists were women or recognise women within their organisations, two are regional organisations driving visitation, awareness and economic development and two more recognise local Council efforts to build better places in partnership with innovative developers and others.
National consensus statement by Australian bicycle organisations
The Summit was wrapped up with a consensus statement from the Australian bicycle organisations present that expresses the direction for future efforts to make the choice to ride a bike easier, safer and more convenient in this country.
"We are committed to a nation where every child and every adult can enjoy riding a bike safely for transport, recreation and sport. Together we will make Australia healthier and more sustainable through a national commitment to cycling education, training and quality infrastructure."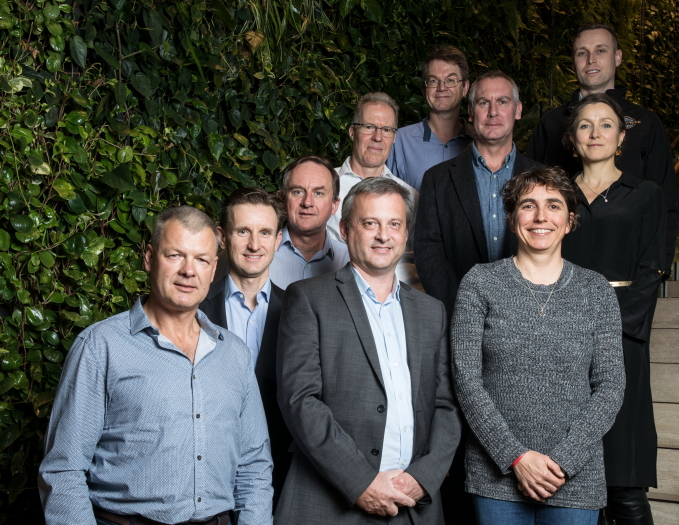 2018 AUSTRALIAN BICYCLE SUMMIT- State and National bicycle organisations, Tower Three, International Towers Sydney, Barangaroo, NSW. Photo: Jessica Hromas
Australian Bicycle Summit Video Premiere
The City of Parramatta was featured in the Summit Video premiered at the Gala Awards Dinner. Made in collaboration with the City of Parramatta, Bikefilms.co and We Ride Australia, it celebrates Parramatta's efforts to create a healthy, liveable and productive environment and kicked off the Gala Summit Awards Dinner. It can be viewed on our home page.
Key Note Presentations
The International Key Note Address was delivered by renowned city-shaper Dale Bracewell. As Manager Transportation Planning for the City of Vancouver, he has led congestion busting changes in the city and a change to a healthier, multi-modal transport system with extensive increases in cycling and walking for transport trips.
Full details of Australian Bicycle Summit speakers, presentations and videos as well as an extensive photo gallery are all available on the speakers and presentations page.
Awards key facts:
Summaries of winners can be found on our Awards pages:
The 14th Australian Cycling Luminaries Awards are organised in conjunction with the 2018 Australian Bicycle Summit by We Ride Australia a charitable NFP national advocacy foundation – read more.
An independent judging panel selected finalists and winners, see them here.
Principal Partner – the 2018 Australian Bicycle Summit and Cycling Luminaries Awards are proudly supported by the NSW Government
Summit video sponsor
Hosted by
Summit session sponsors
Awards sponsors