Let's Ride, Melbourne!
23 February 2021 | Announcement, Community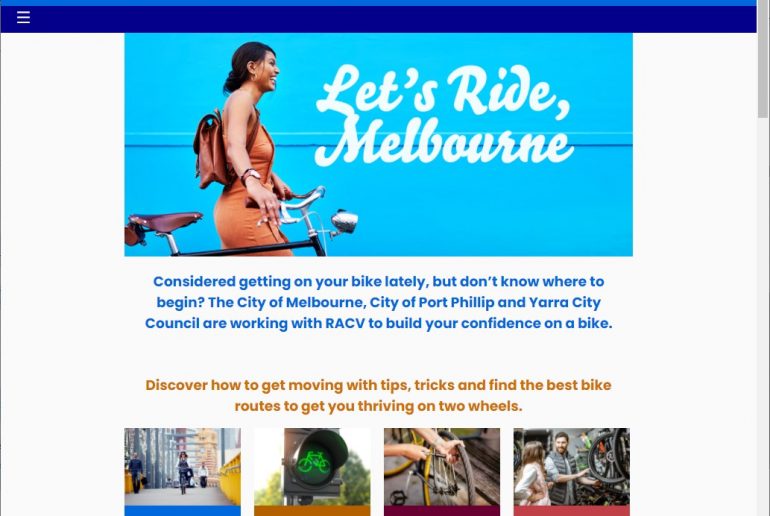 The RACV in partnership with the Cities of Melbourne, Port Phillip and Yarra has today launched a new campaign to encourage bicycle riders back into the city.
Let's Ride Melbourne was developed to support more people to choose to ride bikes for transport as Melbourne recovers from the pandemic and promote riding a bike as a convenient, healthier way of getting around.
The program includes workshops, engagement through newsletters and a comprehensive website, with a free call-out from the RACV's Summer Bike Assist service to provide a little more peace of mind – in fact everything you need to boost your confidence, promote safe riding behaviour and raise awareness of safe bike routes and new infrastructure.
With upgrades to Melbourne's infrastructure as part of the COVID-19 response, there has never been a better time to consider making short daily trips by bike.
RACV's General Manager arevo Mobility, Elizabeth Kim, said "the mental, physical and financial benefits of riding for transport, as well as for leisure, are being discovered by more people than ever before."
The Deputy Lord Mayor of Melbourne, Nicholas Reece, said: "Let's Ride Melbourne! is a great way to access helpful resources and activities for new riders who want to learn more and build confidence.
"We're fast-tracking the installation of new bike lanes to make it safer for more people to ride, which frees up space on public transport for those who need to travel into the city from the outer suburbs."
We Ride was pleased to be asked to assist with review of the program ahead of its launch.
Full details can be found on the RACV media release here, and the new website here letsride.melbourne.vic.gov.au